Welcome to Warren T. Eich
Home of the "Wildcats!"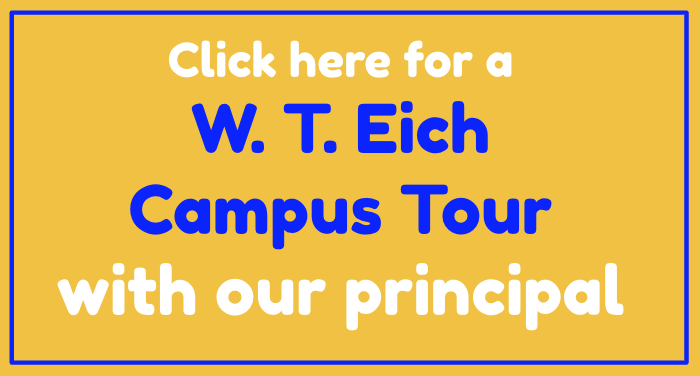 Our Mission
We are a community that offers top-notch engaging programs where EVERY student can find their place and their passion.
We are a family of individuals from varying backgrounds who care about the well-being, educational, and social-emotional growth of all members of this community we call EICH.
We are a community of people working to create global citizens in a changing world.

About Eich

Warren T. Eich Middle School, which was originally opened in 1964 as a 7th/8th-grade Intermediate School, has experienced many successes academically, athletically, and within the community. During the 1999 to 2013 school years, Warren T. Eich received some of its most prestigious honors. In 1999 and 2013, Eich was selected as a California Distinguished School and was also named a National Blue Ribbon School in 2000. During 2006 Warren T. Eich received recognition as a Project Fit America School and in the fall of 2008 Eich became an AVID (Advancement Via Individual Determination) National Certified School.
In May of 2013, Warren T. Eich was accepted as an International Baccalaureate (IB) World School. As an IB school, all Eich students take a World Language (WL) class and a Visual and Performing Arts (VAPA) class as part of their daily academic schedule. Within our VAPA department, students at Warren T. Eich have the opportunity to take Beginning or Advanced Art, Intermediate or Advanced Communication Technology, Beginning or Advanced Woodshop, Engineering & MFG, Electronics & Robotics, Yearbook, Beginning or Intermediate or Advanced Ballroom Dance, Beginning or Advanced Drama, Beginning or Intermediate or Advanced Band, Drum Line, Guitar, and Choir. We are proud of our programmes and have won multiple awards for their excellence. Since the early 90's, the award-winning marching band, alone, has accumulated over 200 first-place showings in parades and concerts.
Athletically, Warren T. Eich offers Volleyball, Cross Country, Competitive Flag Football, Basketball, Wrestling, and Track & Field as after-school competitive sports. Since 1997, Eich boasts over 40 athletic championships while competing in the Foothill Interscholastic Sports Athletic League (FISAL).
Warren T. Eich also has strong ties with the community by participating, on a yearly basis, in the annual Lions Club Canned Food Drive, a Toy Drive which supports Woodbridge Elementary School's Giving Tree to supply gifts and books for underprivileged students during the holidays, Eich's Jingle Bell Run which raises money for low-income Eich families, and St. Baldrick's in the fight against cancer. Each year every 8th grader completes a community service project, not only benefitting the community but benefitting students by broadening their world view.
Finally, Warren T. Eich offers classes and programmes that fit the needs of a diverse student population through classes offered in the following areas: Advanced Language Arts and Social Studies/History, Advanced Placement/Accelerated Math, Integrated Math 1 (IM1), Heritage Speaker Spanish, Spanish 1/2/3, French 1/2/3, Daily Intervention, English Language Development, and Special Education for RSP, SDC, and FSP. We also have a weekly intervention/enrichment period, which allows students reteaching and/or academic extension opportunities.
If you would like to see our school in action, please feel free to watch this campus tour video with our principal, Mr. Brown or reach out via email to schedule an in person campus tour (due to COVID-19 health guidelines, our campus tours can only be scheduled after school hours).
We look forward to hearing from you and thank you for considering us for your middle school experience.
GO WILDCATS!